Ready for the next level?
– Include IT
Include IT is a newly formed company engaged in headhunting and recruitment in IT, while developing its own software for managing recruitment processes. In late 2015, I helped them create a logotype, corporate identity, corporate prints and website.
In a search for an appropriate visual style, we chose to paraphrase the look of old 8-bit games on which many people in the business grew up. The key visual is the animated loop, which takes place in an unspecified IT firm and resembles to an 8-bit arcade game.
8-bit illustrations show some typical clichés connected with IT, including pushy salesmen, network guy with his faithful friend Tux, tall blonde from the Human Resources Department, cleaner and her dangerous floor, nerdy colleagues, cats as an opportunity to procrastinate on YouTube, and essential boosters in the form of pizza, coffee and Red Bull.
The name "Include IT" comes from the C/C++ programming language and refers to the #include directive. In this analogy, the main symbol of the company is a graphic representation of the hash, from which the acronym IT comes forward optically.
Construction drawing and safe zone of the logo is based on a geometric grid.
Logotype will be used mainly in the virtual space, therefore it contains a soft gradient, which works great in RGB environment. However, not every time is possible to apply the logo in its full color. This monochromatic version was designed for those cases where we can to work with just a one color.
Corporate prints are used to present the company in personal contact.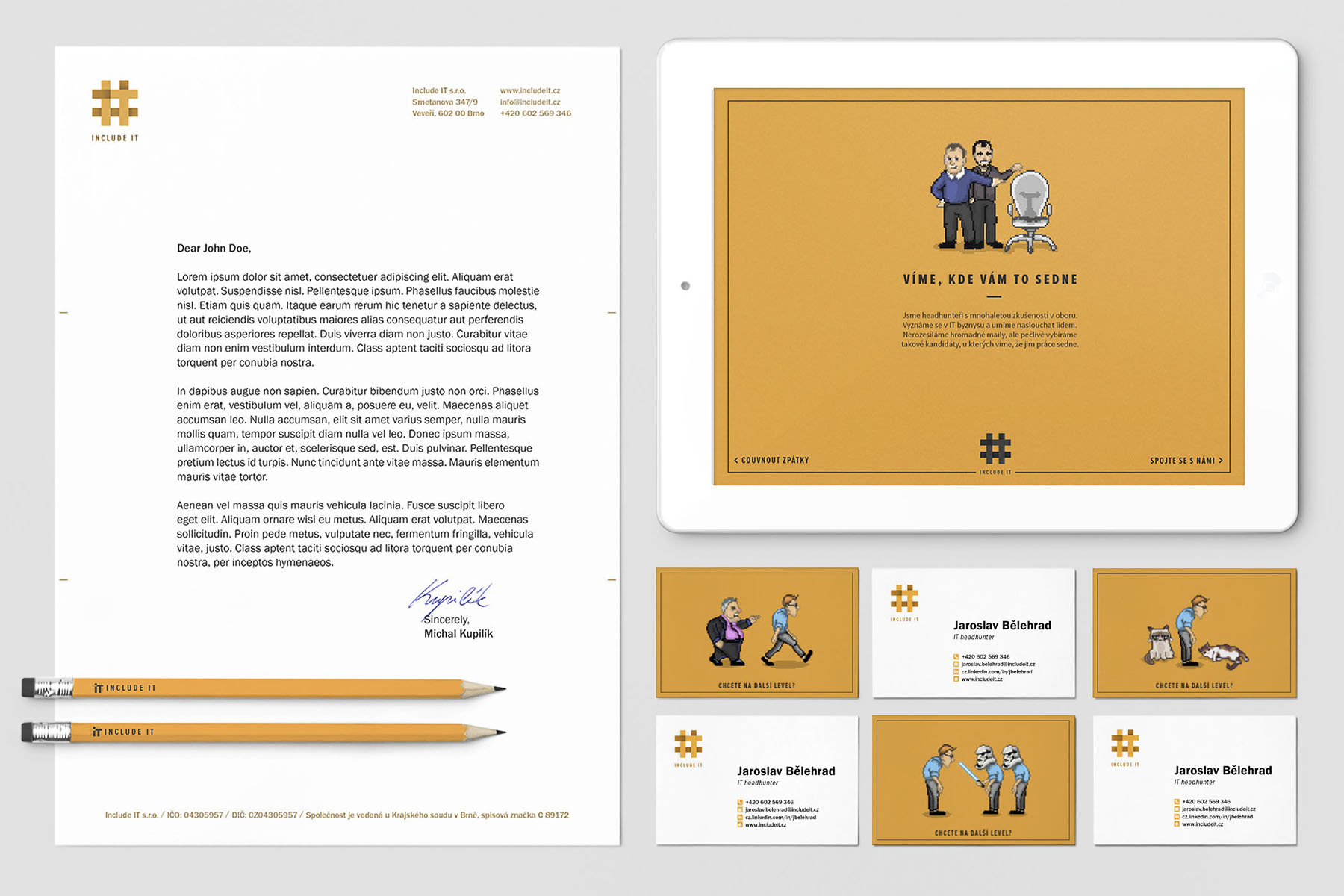 The microsite serves as an interactive presentation of the company. Therefore, the structure and the design correspond to this intention.
We have a clue where to include you!
– Include IT